In the urban space
Audioguide
Audio-guide in a mobile application is a great way to transfer information. It is the user who decides, whether he/she wishes to focus on a written text or listen to its audio version in order to fully appreciate spots he/she is visiting.
Playback may start automatically (the app uses information on the user's location) or may be started manually at any time.
Professional voice-over versions in many languages - sightseeing becomes even more pleasurable!

In the urban space:
Audioguide
Kasprowy Wierch
In the "Kasprowy Wierch" application the audio-guide serves tourists carried up and down by the cable car. A lector presents the history of the cable car and describes scenery visible from the windows of the cable car. He also gives a guided tour around the summit of Kasprowy, accompanies tourists on the trails and lectures on the history of the most important premises of this part of the Tatra Mountains.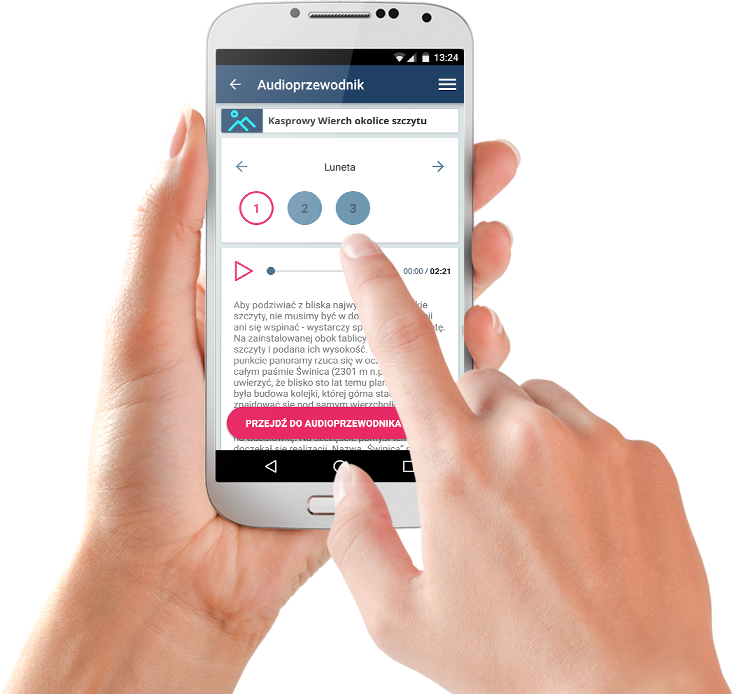 In the urban space:
Audioguide
Kraków for the disabled
Adoption of the audio solution in this application is related to the specificity of the project that has been designed for disabled tourists. The audio-guide offers a guided tour in Kraków without any interference from the side of a user: it is enough to switch it on and appropriate audio files are played automatically in the vicinity of a specific object.