In the urban space
Festivals, events
Applications presenting the programme of a festival or an artistic event, containing information the user may need and multimedia, i.e. photos, videos, sound recordings, and texts, ready to be uploaded.

In the urban space:
Festivals, events
Sacrum Profanum
The multimedia guide to the Sacrum Profanum Festival keeps you up to date with all events of the Krakow festival. The users are informed about the festival news and events, as well as the programme of the festival and accompanying events. They can also create their own calendar of the main events and the accompanying events, and the user is reminded of them (via push). You won't miss any major event using a well-organized planner. In addition, the application offers a rich choice of multimedia, spots, and reportages from the festival available on YouTube.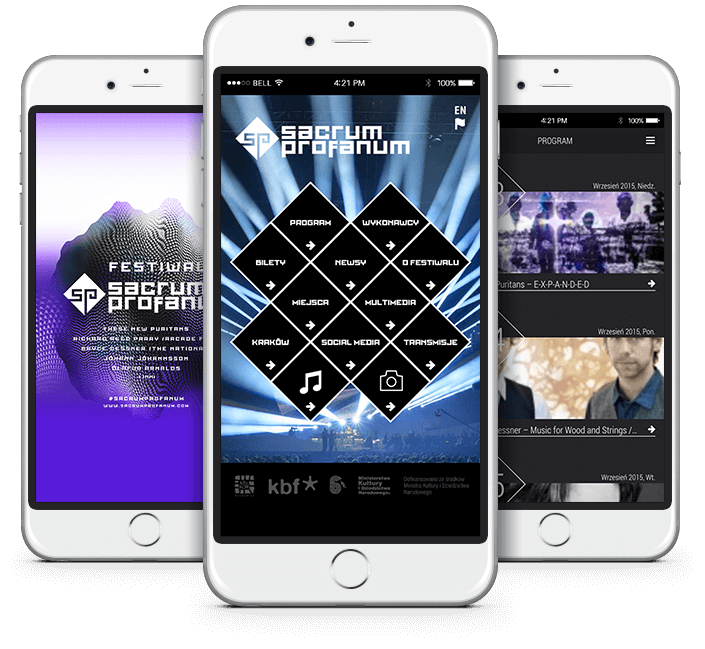 In the urban space:
Festivals, events
Krakow Film Music Festival
The multimedia guide around the Krakow Film Music Festival provides access to information regarding the organisation of the event, and a complete programme, to be used in compiling the user's own calendar of events. Application users can also find vast biographies of all the composers and performers taking part in the Festival. The application also allows one to check ticket prices and the places where they are sold; it will also help you to set the quickest route to the concert site from any point on the map of Krakow. The "Krakow Film Music Festival" application also offers a rich collection of multimedia: photos and videos regarding the event.