Museums and cultural facilities
Historical cottages, museum exhibits, and exhibitions via a mobile application? Why not? A mobile guide to the ethnographic park is a great attraction for visitors, because they can easily locate the site on a stylish map and find a shortcut to the site via GPS navigation. The application can also guide you around large museum facilities, helping you find interesting presentations, photos, films, audio recordings, and the augmented reality will make a visit to the museum and its exhibition easy for you.

PolskaTurystyczna.pl:
Museums and cultural facilities
Kielce Village Museum
The "Kielce Village Museum" application not only presents faclities with their own photos, geographic coordinates, and descriptions, but also proposes routes of various lengths to visit the museum. Interesting elements of the application include quests, or rhymed riddles which lead users to further locations. Owing to the GPS technology applied, users can check their exact location at any time, find a facility of interest, and find the shortest way to it, automatically set by the application.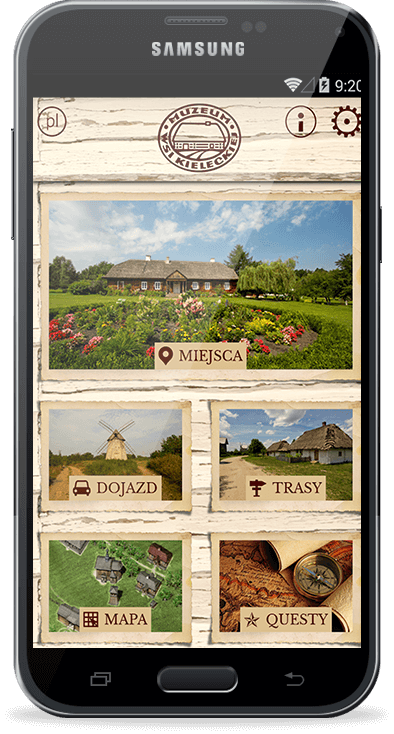 PolskaTurystyczna.pl:
Museums and cultural facilities
Medynia
The "Medynia" application presents all attractions that await the visitors at the Pottery Centre at Medynia Głogowska. The mobile guide offers information on upcoming events nearby, and it presents a few tourist routes on which a tourist can visit places of interest in the area and become acquainted with its natural values. The mobile guide also uses Google Street View, so you can watch the area of the Potter's Farm or the Gallery of Folk Ceramic Sculpture. You don't need an Internet connection to use the application.