Treespot
GreenVelo Trail - www site and mobile app
Mobile application and www site of The East of Poland Cycling Trail Green Velo. It's a trail with a length of nearly 2000 km, is the longest cycling route in Poland. It runs through five voivodeships. Mobile application and greenvelo.pl/en/ website are a database of the most interesting sites with tourist appeal. You can find many attractions here, including those for families with kids, places to eat, accommodation, the most interesting built heritage and wild nature. Tourists can also follow educational paths that lead through the most attractive areas and places. The application and website also offer a collection of the most interesting events organised in the area, and a collection of routes for which it can act as your guide.

Treespot:
Treespot Optimum
Kasprowy Wierch
The summer application "Kasprowy Wierch" is a mobile guide around the peak area. There are nine hiking trails leading to the top - from Kuźnice or Brzeziny through Dolina Gąsienicowa, Myślenickie Turnie or Kopa Kondracka - depending on your fitness level and time available. Each route is marked on the offline map, and thanks to GPS technology, you can see your exact position while hiking. Points of interest are marked on the routes and described. AR (augmented reality) allows you to see what the place looked like eighty years ago, when tourism in the Tatras was just beginning to develop. Those who decide to use the cable car can enhance their experience by listening to the audio guide which approximates the history and functioning of the rope way and describes the viewed panorama.
The application is available in two languages: Polish and English.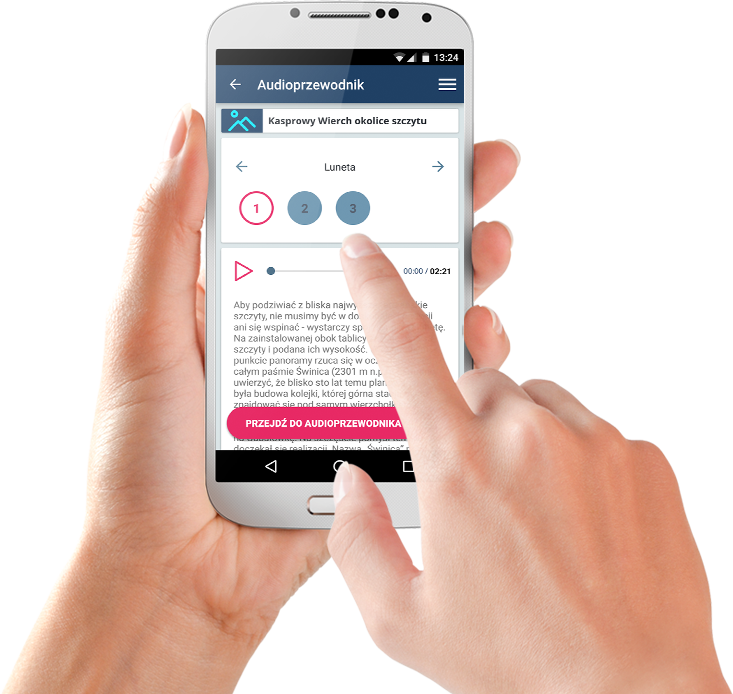 Treespot:
Treespot Optimum
Kraków for the disabled
Adoption of the audio solution in this application is related to the specificity of the project that has been designed for disabled tourists. The audio-guide offers a guided tour in Kraków without any interference from the side of a user: it is enough to switch it on and appropriate audio files are played automatically in the vicinity of a specific object.